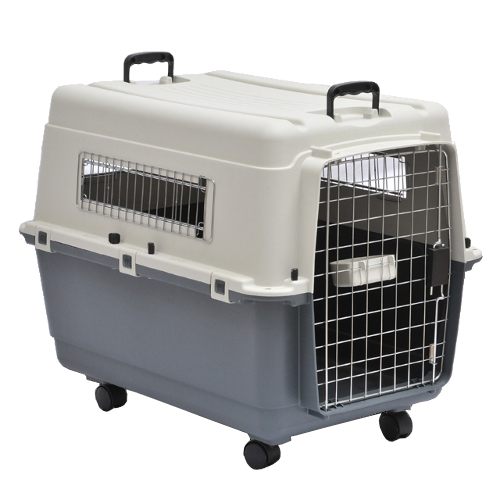 Petmode Aviation Crate Pet Transport Carrier
availability:In stock
sku: BCL2501
Quick Overview
The Petmode Aviation crate is an airline (IATA) approved pet carrier with wheels ideal for training or travelling with your pet, perfect for transporting your pet and can be used for training Easy to use squeeze latch. Wing nut fasteners for security.
Dimensions approx. Length: 100cm (40inch), Width: 67cm (26inch), Height: 75cm (30inch) Weight: 11.8kg (26lb).
Product Description
Petmode Aviation Crate meet all the regulations of IATA for shipping live animals but have a lot of new features concerning security and strength. All you need to do to get a safe flight is to get the size right – please see this Measurement guide
Locks:
Extra lockable clasp clips run around the lid joint giving double security to your pets safety. The kennels are of course fitted with nuts & bolt closing, for those flying with a airline requiring this kind of lock.
'Anti tamper' lock
Also incorporated is an 'anti tamper' lock.
Product features:
– 4 side ventilation to meet IATA requirement
– 2 handle in top for easy transport
– Study plastic construction
– Easy to slide on/off wheel
– Grey/ Light Grey Design
custom contents goes here